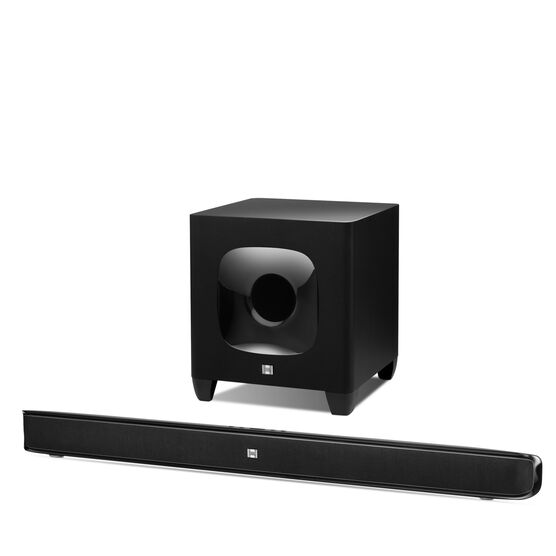 Cinema SB400
Details
https://www.jbl.com.ph/soundbars/JBL+CINEMA+SB400.html?dwvar_JBL%20CINEMA%20SB400_color=Black-USA-Current
---
120-watt, wireless Cinema soundbar and subwoofer
120 watts of built-in power
The Cinema SB400 incorporates amplifiers, controls andleft and right woofers and tweeters into a single soundbar. Its built-inamplification simplifies system connections and operation, and offers up to 120watts of power.
200-watt, 8" (200mm) wirelesssubwoofer
Nothing draws you into the action like huge bass. TheCinema SG400's 8-inch (200-millimeter), low-frequencytransducer and built-in 200-watt amplifier deliver all of your entertainment'simpact, emotion and excitement. And because the system is wireless, it puts nounsightly cables between soundbar and subwoofer.
Bluetooth technology
Movies and TV shows aren't the only things that soundbetter with a JBL soundbar. The Cinema SB400 wirelessly streams music fromsmartphones and tablets, delivering room-filling, full-range sound reproductionwith exceptional bass.
HDMI connectivity
With three HDMI inputs, the Cinema SB400 providesconvenient connection for multiple HDMI source components. It also includes oneHDMI output with Audio Return Channel (ARC), which sends the TVsound back to the soundbar. This setup simplifies switching and makes thesystem easier to use.
Exclusive HARMAN Display Surround technology
Drawing from HARMAN expertise in movie theater audio, theCinema SB400 lets you add cinema sound without adding multiple speakers.Employing proprietary HARMAN Display Surround technology, it creates a virtualsurround-sound experience while preserving the original audio mix in its timbreand special balance.
Dolby Digital decoding
The Cinema SB400 decodes film soundtracks in their nativeformat, which eliminates conversion stages that reduce sound quality. Thisarrangement helps the soundbar provide a superb surround-sound experience formultiple listeners.
Bluetooth­-enabled soundbar with a powerful, 200-watt wireless subwoofer.
Bluetooth¬-enabled soundbar with a powerful, 200-watt wireless subwoofer.
High-definition TV is great – but what good is it if its sound doesn't match the quality of its video? Fortunately, the JBL® Cinema SB400 system offers cinema-quality audio in a small space and high style. Its two-channel soundbar features four 2-1/4-inch (57-millimeter) woofers, two 1-inch (25-millimeter) tweeters, an amplifier that delivers up to 120 watts, integrated Bluetooth® technology for streaming music from digital devices, three HDMI® inputs and HARMAN Display Surround technology, which creates a 3D listening environment from only two channels. The system also includes a 200-watt, 8-inch (200-millimeter) wireless subwoofer with bass-boost control. The SB400 is everything that you can ask for in a sound system.