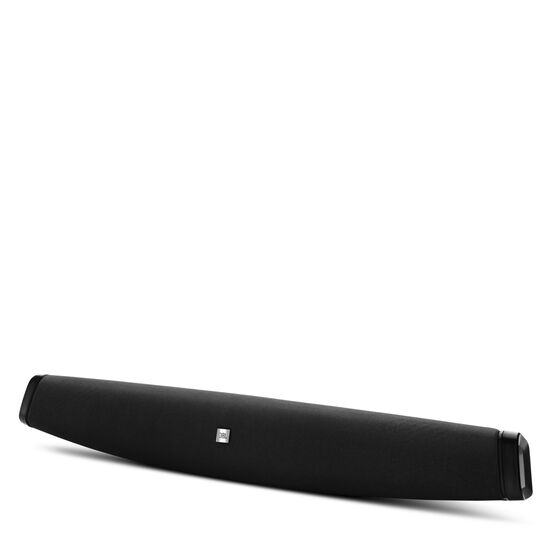 Cinema SB100
Details
https://www.jbl.com.ph/soundbars/JBL+CINEMA+SB100.html?dwvar_JBL%20CINEMA%20SB100_color=Black-USA-Current
---
60-watt, two-channel Cinema soundbar
60 watts of built-in power
The Cinema SB100 incorporates amplifiers, controls and left and right woofers and tweeters into a single soundbar. Its built-in amplification simplifies system connections and operation, and offers up to 60 watts of power.
Exclusive HARMAN Display Surround technology
Drawing from HARMAN expertise in movie theater audio, the Cinema SB100 lets you add cinema sound without adding multiple speakers. Employing proprietary HARMAN Display Surround technology, it creates a virtual surround-sound experience while preserving the original audio mix in its timbre and special balance.
Bass boost
Audiophilies respect JBL speakers for their exceptional bass response. And the JBL Cinema SB100 lets you increase low-frequency performance by just touching a button on the included remote control. The added bass impact is ideal for films.
Dual-position equalization
You can place the Cinema SB100 on a shelf or tabletop, or wall-mount it with the hardware included in the SB100 box. A dual-position equalization feature optimizes the soundbar's performance for any location. So you can position the soundbar where you choose without compromising sound quality.
Plug-and-play solution
The Cinema SB100 easily connects to any TV, and includes the cables for the job. Easy to install, the soundbar requires virtually no setup. Just connect and play.
Analog and optical digital audio inputs
The Cinema SB100 features enough inputs to connect a TV and a disc player, satellite tuner or cable tuner to the system. It connects directly to any television and increases convenience – no plugging and unplugging required.
Subwoofer output
The Cinema SB100 offers an impressive and very affordable audio upgrade for your TV. But if you want to make its authoritative bass performance even better, the soundbar comes with a dedicated subwoofer mono RCA output so you can easily add an external powered subwoofer.
TV volume-learning capability
The Cinema SB100 comes with a credit card-sized remote. However, this impressive soundbar speaker can also "learn" the IR (infrared) volume-control code of your existing TV remote control, taking away the need to keep track of yet another remote for controlling the volume on your soundbar.
Premium soundbar that provides surround-sound entertainment without the clutter.
High-definition, flat-panel TVs are great for watching movies and TV shows. Unfortunately, their gorgeous screens don't deliver the breathtaking audio that should match their brilliant video. For your favorite movies, TV shows, video games and music, the JBL Cinema SB100 is an easy-to-use, two-channel soundbar that offers up to 60 watts of amplified power. It features dual 3-1/2-inch (89-millimeter) premium cone woofers, two 1-1/2-inch (38-millimeter) dome tweeters, exclusive HARMAN Display surround technology that creates a room-filling, 3D soundstage from only two channels, a subwoofer output to add more bass, and dual-position equalization that optimizes the sound based on the speaker's location. Not only does the Cinema SB100 sound great, it looks great, too. It's designed to best complement flat-panel TV screens that are 27 inches (686 millimeters) and larger. And with its elegant, black enclosure, it's sure to grace any listening space. For those who want great sound for their home theater but don't want to break the bank, spend time installing multiple speakers or make the space for them, the SB100 is the way to go. Simply plug it in and press play.